Useful information
What is the reality of depression and anxiety due to COVID?
2021/02/01
With the spread of the new coronavirus infection, about half of the people feel some kind of
anxiety, 10% drink more, and 20% spend more time playing games.
The Ministry of Health, Labor and Welfare has recently announced the "Summary of Survey
Results on Mental Health Related to Coronavirus Infection".
Half of responders are "anxious" at any time
This survey was conducted on the Internet from September 11 to 14, 2020, in order to
understand the psychological effects of the spread of the new coronavirus infection and the
accompanying behavioral restrictions. Responses were obtained from approximately 10,000
cases (10,981 cases).
First, the survey covered people experiencing anxiety in each of the four periods consisting of
"February-March", "April-May", "June-July", and "August-present (September at the time of the
survey)" ((1) felt nervous (2) felt uneasy and restless (3) felt depressed and, no matter what
happened, it had no effect on that feeling (4) had no anxiety) The results indicated that the
person was feeling some kind of anxiety.
The reasons for anxiety have changed
When asked what they were worried about, "infection of themselves and their families" was
always the most common answer.
However, looking at the order from second place onward, people were mainly worried about the
"shortage of daily necessities" such as masks (despite such daily necessities being supplied,
staying home). It can be seen that as time progressed, anxiety about "changes in life due to
self-restraint" and "work and income of oneself and family" increased.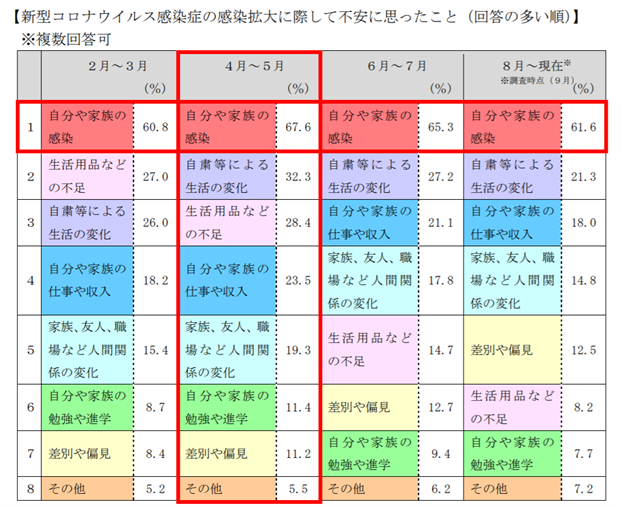 From "Summary of results of survey on mental health related to new coronavirus infection"
Exercise has decreased and game time has increased
One of the most common answers from respondents about how aspects of their daily life had
changed ("increased" or "decreased") compared to before the new corona epidemic was
"exercise". 39.1% of people say that has "decreased" for them.
In addition, "game time" was the most common answer for what had "increased"; 18.6%
answered "increased". Also, sleep time and excessive drinking were about 10% for both
"increased" and "decreased".
You can see that as the time spent at home is increasing, the amount of exercise is decreasing,
and game time is increasing. Although it is not included in this question, you may also have
more time to browse your smartphone or the internet.
Some people have been unable to relieve their anxiety and stress
The most common way to relieve anxiety and stress was "preventive actions such as washing
hands and wearing a mask." Certainly, if you do what you can to prevent infection, it's important
not to be nervous or too worried.
In addition, "Search for information using smartphones and the Internet" (35.7%), "Talk to family
and friends" (21.0%), and "Move your body by exercising" (20.3%) are the top solutions.
Approximately half of the respondents said that they were able to successfully ease and
eliminate anxiety and stress with these remedies (5.0% "done well" and 41.3% "done so-so"),
but about 20% of the respondents answered that they were not able to do it much (16.2%) or at
all (4.5%).
The number of suicides in 2020 has increased for the first time in 11 years
The new coronavirus has hindered our social activities, such as gathering, talking, and singing.
In addition, there are fewer opportunities to move due to the demand for self-restraint, such as
the declaration of an emergency.
But for us, talking to someone and exercising are essential to maintaining good mental health.
Although the causal relationship is unknown, it was announced that the number of suicides in
2020 was 750 more than in the previous year (according to preliminary figures from the Suicide
Countermeasures Promotion Office of the Ministry of Health, Labor and Welfare). The number
of suicides in Japan has been declining for 10 consecutive years, and it is known that it has not
increased since 2009, immediately after the Lehman shock.
It's important to be careful about preventing infectious diseases, but it's also important to keep
your mind healthy. Using tools such as email, phone, and video calls, it's important to interact
with people. Also, enjoy a walk outside when the weather is nice.
While valuing such daily enjoyment and self-care, it is also important to consult a specialist if
symptoms such as anxiety, insomnia, and depression persist.
◎ Reference
"Summary of results of a survey on mental health related to coronavirus infection"
https://www.mhlw.go.jp/stf/newpage_15766.html